Want a whole level of dining experience? One which defines what fine dining is? then you must try degustation at Amuse Restaurant in East Perth provides a unique dining experience that would leave you wanting more and wishing you never started this epic culinary journey - an overload on your sensory - trying dishes with different combinations that you've never tried before - but it just works.. it's perfectly delicious... - and you won't want to go back!

Amuse Restaurant in East Perth is in an area you wouldn't expect - a home-like building - with questionable tastes in their deco. Front view of the restaurant reminds you of nothing more than a cafe, while the brown walls of the interior left us feeling a little discouraged. But, like they say,
"don't judge a book by its cover",
after all this restaurant has just won
Best Restaurant of the Year, Best Fine dining and Best chef
in
2009
!
Amuse Restaurant offers diners a choice from their five course menu or they can opt for the ever changing nine course meal. Guess which one we went for? - Yes the nine course meal (and we don't regret it one little bit!) - minus the accompaining wine with each dish as some of us didn't drink. Instead we opted to chose a wine from their own wine cellar and cocktail range (some of us opting for scotch).
We had this dining experience in July, so the menu have been updated - check
Amuse
for the latest menu.
This was our menu list:
The Pre-appretizer - The entree to the entree! - A delightful mixture of creamy mushrooms! - it was absolutely delightful!
The entree - Crab, Kingfish and Horseradish with Salmon Roe
Chestnut, balsamic and truffle in this delightful sauce
Marron, Egg and Nigella - with lobster and octupus ink (which they removed on mine since I'm allergic to it!)
Rabbit Foie Gras and parmesan - this was rather interesting - the sauce has this salty taste to it..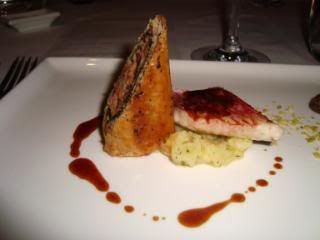 I love the presentation of it - it's just unique - Its the Red Mullet, Prawn and date with pistacho nuts!
Main ONE: Duck, Goat's cheese and black olive! - THIS WAS absolutely delightful, The duck was juicy, fatty and just delish! (yes i had this one!)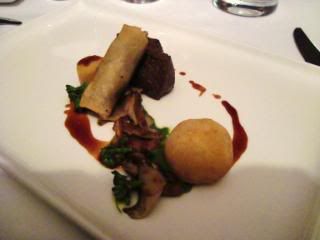 MAIN TWO (choice TWO): Beef, Cafe de Paris and Ladons - and springroll? - Apprantly it was really really nice even the springroll was oddly different!
The refreshing palate cleanser - Celary Sobert - with a hint of celary and really refreshing, interesting (in a good way) and what a great idea!
Parsnip, Yogurt and Museli - I would love this for breakfast everyday! HAH - it is soooo nice!
Chocolate, Beetroot and honeycomb - I know weird combination but it works sooo well! Especially the pieces that looks like turd and that cube thing.. - that's a hobeycomb beetroot thing..
The selection of chocolate truffles with almond and almond slices to go with our tea/coffee
So apart from the impecable food - what else can I say? The service was brilliant and on the ball - filling up your glasses without you noticing, introducing the food as it comes, catering for any allergies - even if you find out in detail what you are allergic to when the course is introduced - they take it back immediately, profusely appologise and make a brand new dish within 15mins.


The price - it's not for everyday - it's for special occasions and it's worth it. They also have optional cheese platter - which we didn't get but it looks really really awesome - so many different cheeses! I'm a big cheese fan.



Overall - all I can really say is... don't judge it by its appearance at the entrance because it's full of surprises - Even the toilets have a long mirror (well the female does) allowing you to fully freshen up! =D