The pronounciation of the second word of this restaurant caused such a fuss amongst us, but not more than having to share a plate of the yummiest gnocchi ever tasted in Perth EVER. In fact there was just so much fuss, fuss over the name, having to share a yummy entree and a quarter of us usual diners skipping out on this fabulous dinner, resulting in M's disappointment that only one Entertainment Card was being used.
Villa D'Este
itself is a bit of a fuss, only because its located in West Perth amongst all the boring attire of black and white suiters, in what looks like a villa plucked out from a countryside somewhere and dropped in the middle of CBD buildings, hence the fuss - a bit paradoxical, and well, parking in the city... The deco is typical of Perth's restaurants, wooden floorboards, very 1800s-like socialite "homestead". I did however, loved that there was a rose with a simple vase in the middle of all the tables.
The service was slow. It took them 15 minutes or even more for them to take our drink orders and even longer for our meals, even though there were two different waiters for us - one for our meals, one for our drinks. Maybe they should have only had one waiter who took both the drinks and the meal orders, that way everyone in the restaurant gets exceptional service.
I suppose all this can be quite forgotten, because the meals that came out were absolutely sensational. We had bread, before the entree - which was much needed because it took them forever to bring out anything and to take any sort of order. In fact I think they forgot that they hadn't taken our order - took them 30-40minutes before they came around to us to take our order. But like I said, the lack of service can somewhat be overlooked because the food really was sensational.
Two entrees -
one of which was the special of the evening -
the blue cheese gnocchi
- it was the best ever!! My tastebuds were in heaven and just looking at the photos again makes me drool...
there was also
the Linguine alle Vongole Saporite
- which was a home made pasta served with a sauce of fresh clams, white wine, pasley, garlic, olives, capers and chilli - it was also superb, but not even close the heavenly experience that the gnocchi.
Our side mixed salad to go with our mains (and to get some sort of vegetables into us - have to have a balanced meal right??)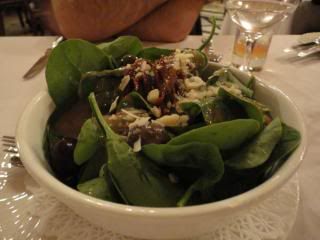 which also was dressed with their homemade dressing or some other choice which I can't remember. They dressed it at the table so the salad wasn't soggy - I can't stand soggy salad.
The mains -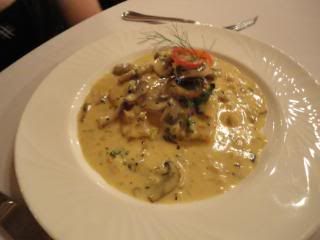 S's
Medaglioni di Vitello Con Prataiolo -
Medallions of veal topped with a field mushroom and served with a sauce of dry sherry and a touch of garlic and thyme..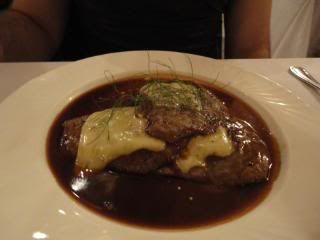 M's
Due Gemelli alla Montanara -
beef fillet medallions grilled topped with a porcini crust and served with a flamed brandy sauce
My was a Chef's Special of the night - it was
breast and leg of duck
(MASSIVE PIECES!) - double cooked duck with my choice of a porterhouse sauce rather than a creamy one. Best duck I've had in Perth so far.
We didn't get dessert because by the end of the night we were stuffed. We had also forgiven them for their bad service
(although I still believe if you going to claim that you are a fine dining establishment you still need to have damn good service!! especially if you are going to charge ridiculous prices for food, although sensational, are not exactly mind blowing - except for that gnocchi..)
and promised we be back and will be bringing the fourth member of the team who bailed on us because he was 'sick' and 'coughing up a lung'. Oh and understood why a collegue of mine raved and ranted about how it is her favourite restaurant in Perth. I don't know if it's my favourite, but it's definately up there.