I picked
In Contro
to eat out for two reaons FIRSTLY it had awesome view of Perth, undisrupted views of the city skyline. Secondly it was in the Gold Entertainment book.
The restaurant is situated on the South Perth esplanade on the corner of the ever busy popular Meads street. You enter the restaurant on the Meads street side and you confronted with the bar, the enterance and the bar is rather confined, but the restaurant is pretty open spaced with a pretty great view of Perth. The whole place is dimly lit, the chairs rather uncomfortable, in fact it really hurts your buttocks. Whoever picked out the furnishing of the place needs to be shot, seating should always be comfortable, especially at a restaurant!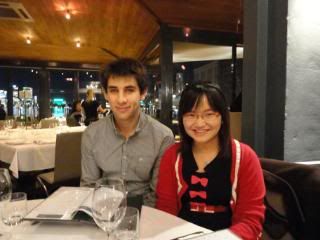 The photos here look really bright because I turned up the ISO and turned off the flash.
The ambience was rather chilled, although it also had this feel of disorgansation and chaos, mainly stemming from the staff. This was rather obvious when it took them half an hour to ONE hour to take our drinks order, ONE hour for our mains to arrive, (which in retrospect we were grateful that M ordered the bread), half an hour for them to take our dessert order, another half hour for it to show up (which wasn't too bad seeing as we were still full from our mains, if we weren't I think there would have been murder).
Our starter Bread and meats
The food was pretty good.. not bad, not spectacular,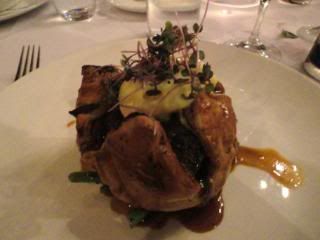 S had the Beef wellington -Beef fillet, mushrooms, truffle, puff pastry, green bean tomato, anchovies. The puff pastry was fantastic, the pastry was puffy, buttery and all things a pastry should be. The beef tender and well cooked.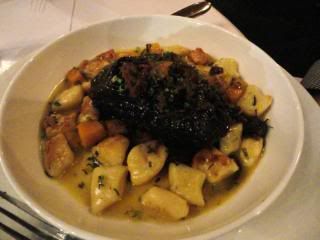 Bf had the Beef Cheek - Coffee braised beef cheek, caramelised pumpkin, potato gnocchi, balsamic onion, which was also beautifully cooked.
K had the Mt. Barker Chicken - Mount Barker free range chicken, chorizo sausage, kipfler potatoes, spinach, smokey paprika aioli. The chicken wasn't dry, it was cooked well.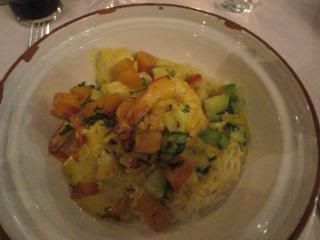 M had the Spanish Seafood curry - seafood
,
pilaff rice, cucumber salsa. I didn't get to taste it so I can't comment, but according to him it was great.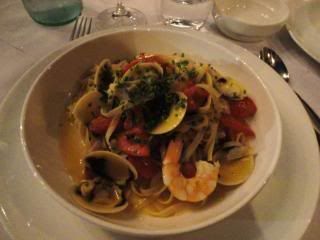 I opted for a light meal and because I was craving pasta with olive oil I settled on the Vongole, which consisted of clams, linguini pasta, prawns, chilli, garlic, extra virgin olive oil. It was light, it needed salt and seasoning as well as cracked pepper which they did not offer. I was rather disappointed and regreted that I didn't have the duck.
After the mains, the part that saved this restaurant from having 5 very unhappy diners (we don't like to wait), was the dessert. The desserts at In Contro is absolutely fantastic.
We had 3 desserts to share, the first was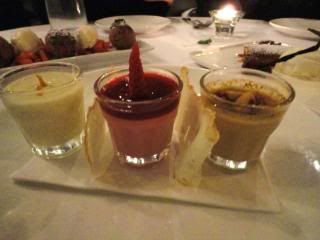 Trio of Vanilla panacotta, hazelnut brulee, berry bavarois - they were all fairly well done and fantastic, I especially loved the panacotta.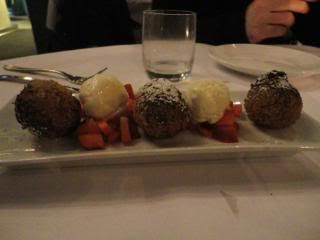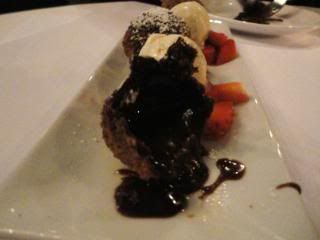 Kennedy and Wilson chocolate donuts, old English toffee ice cream, Gnangara strawberries - This was bf's pick and it was probably the best one out of the three, the donuts were warm and when you cut it open, perfect fondue of chocolate pours out. It went fantastically well with the ice cream and the strawberries.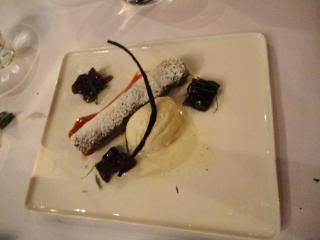 The third one was a crepe, i forgot what it was called and what it had inside the crepe, but I wasn't a big fan of it, might explain why I can't remember. It didn't taste too bad, but just wasn't my favourite.
Overall, In Contro isn't a bad place, but it's suppose to be a fine dining venue (based on it's location and prime views) but unfortunately, with that regards it just doesn't deliver. The prices are relatively competitive, it's very average Perth price, and it's below average on the service, and the food, well, just isn't fine dine standards just yet, almost there, but not quite.