The Byrneleigh Hotel is the perfect venue for after work drinks and catch up session with collegues seeing as it is just down the road. The bar section was filled with workers starting their happy hours. The dining section however wasn't packed out but we were told that we had to be out by 7:30pm (it was 530pm) as there were bookings for the tables.
The first thing that struck me about the Byrneleigh was the trendy decor. They'd done an excellent job decking it out. Plenty of warm timber, offset with astro turf and shiny, modern chandeliers. Sounds like a strange mix, but it all balances together. The outside has a massive screen for all those die-hard sports fans.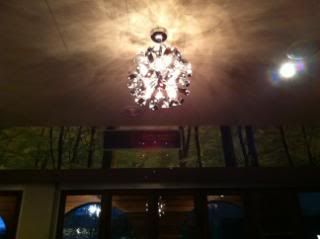 The second thing was that we were harassed to place our order. Unfortunately, the menu was so bland that nothing jumped out at any of us, causing us to turn the waitress away twice. Finally, when we were ready to order and it seemed that all the waitresses were playing host to customers.
Thirdly, no water delivered to the table, even after we asked. After the second request, we were provided water.
My fourth issue was the food provided on the tasting plate, which was below average. I give credit were credit is deserved and the squid on that tasting plate was quite good according to everybody. Not too chewy and the batter was light and flavoursome with a perfect amount of salt. The rest of the food however was below quality. The chorizo with lime was rather poorly done. I now realise that it is VERY possible to get VERY bad chorizo. It was oily and fatty and reminded me of chinese sausages (except chinese sausages actually have flavour instead of just tasting oil), west australian olives with feta, pea aranchini with truffle aioli, (which were nice and crispy and probably the only good item on the tasting plate), peppered beef, orange and bernaise, some toasted turkish bread with home made hummus (the bread was cold and the hummus seemed to have old oil taste to it) and two garlic prawns, which seemed to need to be cooked a little bit more.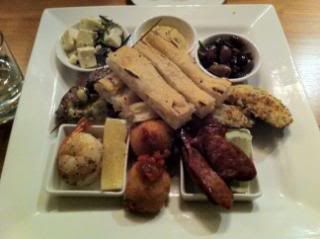 We also had a chicken pizza to share, which was rather average, nothing remotely exciting. In fact, it probably needs more flavours to it, was rather bland.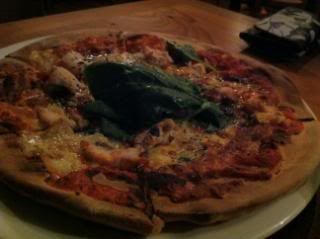 As a happy hours place and the fact that it's walking distance from work the Byrneleigh is the perfect place to catch a few drinks, but other then the awesome decor, everything was below average, even as a pub food place. It definitely needs to work on it.