A sunny Saturday morning in winter was the perfect time to have brunch in Northbridge. Although our original destination proved to be filled with complications, namely someones not wanting to sit outside in the sun for the fear of being burnt, then only to discover sitting indoors meant sitting on stools with no real table, as the place was packed out. So we ventured inside to around the corner to an equally nice, funky cafe called Tarts.
photo of the interior main dining area
When you walk in Tarts cafe you have this overwhelming feeling of wow! There are all kinds of things in the place… from dresses, jewellery, to magazines and greeting cards all in the main dining area. When you walk further in you discover a corner with lovely leather vintage chairs and on a warm summer day (or in winter if you are brave enough) you can venture into their courtyard filled with mismatched seats and tables.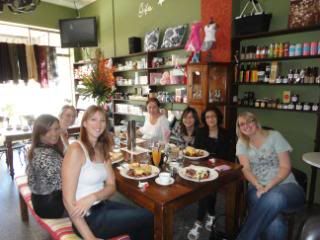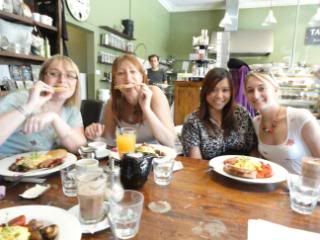 Tarts Cafe makes delightfully beautiful coffee and their mochas and hot chocolate comes with chocolate buttons - melted chocolate goodness instead of the chocolate syrup. However, if you are unlucky and they have not delivered your coffee on time to your table you won't get the chance to melt the chocolate yourself.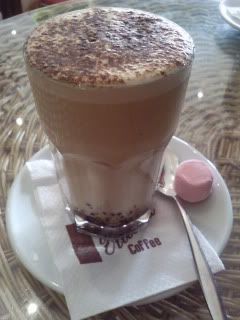 Hot chocolate - melting chocolate pellets at the bottom of the glass
The breakfast menu has the usual breakfast of eggs, egg benedict, big breakfast along with interesting mixes like the cheesy wraps.
On this occasion I had the healty option of a raspberry yogurt muesli. It was rather delicious, but I would have preferred it if they also provided a side of milk as the whole thing became a little to dry. Apart from that it was fine.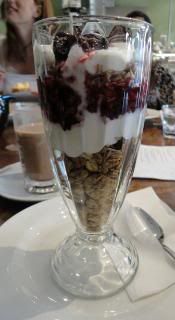 Raspberry yogurt muesli
The big breakfast proved to be delicious and hearty as NM said.
The big breakfast
On the second occasion that I came to Tarts I tried their egg benedict, I must say their hollandaise sauce wasn't the best, but they do make good poached eggs.
Apart from breakfast tarts have a cabinet filled with lovely cakes and of course tarts which can be purchased at anytime (unless sold out of course!). I rather like the cafe, it's casual, relaxed and yet sophisticated. It provides fantastic coffee, although I'm not sure if I think their breakfast is fantastic, it's rather average, but the ambience, coffee and the lovely staff makes up for it.